Workshop´s with Exotic Pole Champion Doris Arnold
Die unglaubliche sexy Exotic Pole dancrin Doris Arnold besucht uns am 05.11.17 um uns bei einigen Workshops ihre tollen Tipps und Tricks zu zeigen. Sie reist extra aus Paris an und gibt uns die Möglichkeit Eindrücke in ihre sexy Pole Welt zu machen.
Biography from Doris Arnold:
I started dancing when I was fourteen and have studied classical ballet, jazz and modern jazz for years.
I have danced for five years as a show girl in the big…gest nightclubs in France (Paris) and abroad (Caribbean Islands, USA, Morocco, Switzerland), for well known DJs such as David Guetta, Bob Sinclar, Garau Joachim. I have also appeared in French TV shows and movies. Meanwhile, I completed a ballroom dancing instruction course and realized that I loved teaching.
In 2007, I decided to develop the pole dancing expertise I had already used in my strip shows, attended some classes in the only pole dancing school at this time in Paris and became one of the instructors after only a few months. But this is when looking at MPDA videos that I definitively decided to devote all my time to this amazing acrobatic and artistic dance.In 2009, I was fourth in the first French pole dance championship and from September 2010, I have been the second runner up. Since I started getting into competitions, I have created my own studio, Spin With Me and regularly organized workshops across the country to make pole dancing better known as a truly difficult sport as well as a graceful dance.
AWARDS:
*1st at french championship 2013
*3rd at European championship 2011 category champion of champion
*semifinalist at miss pole dance world 2011…
*2nd at the intertional pole fitness battle 2011
*Winner de la competition internationale organisé par l'Emission "Sabado Gigante" et diffusé en juin 2011 sur Univision
*3rd at french pole dance championship 2010
*3rd at Pole Art 2010
*semifinalist of Miss Pole Dance World 2010
*2nd at European professional Pole Dance Championship 2010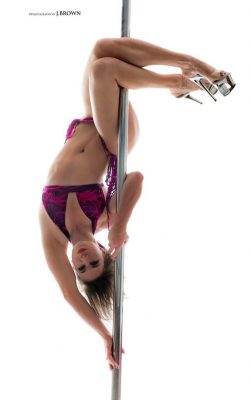 Pole Position WORKSHOPS Sonntag, 05.11.2017:
13:15 Uhr – 14:45 Uhr – 90 min. € 90,- pro Person
Signature Moves -Intermediate/Advanced Level (AUSGEBUCHT)
This workshop was designed to teach you the Doris´style trough tricks, spins and combos of her own creation. Come challenge,
Doris will guide you to succeed al the figures as well as her.
15:00 Uhr – 16:00 Uhr – 60 min. € 80,- pro Person
Booty Chic -All Levels
This workshop mixes wisely floor work, lap dance and fitness. If you want to relax, strengthen and sculpt your body while learning very sensual movements in a sexy atmosphere, this course is for you. This ís the most entertaining and funniest sport ever created.
16:15 Uhr – 17:15 Uhr – 60 min. € 80,- pro Person
Pole like a Stripper -All Levels (AUSGEBUCHT)
One of Doris´ best sellers: this choreography Workshop at the pole is completely dedicated to sexy moves and sensuality. For the dance lovers, all performed without acrobatics. Take your high heels and a sexy Outfit, you will love it.